Pre-Payment Options
** IMPORTANT 2020-2021 UPDATE**
Food Services is going CASHLESS.
Please ensure your student has a positive balance on their Titan Meal Account.
For your convenience, the district utilizes an online payment system, TITAN School Solutions, for all grade levels K-12!
Through the TITAN meal payment system, parents are able to:
Make an online payment to their children's cafeteria meal accounts

Remotely monitor their children's accounts

Set up automatic recurring payments

Set up low balance e-mail message alerts

Manage your student's meal account on your phone or mobile device
Add funds to your child's meal account today!
Your child's TITAN account has already been created through your Aeries Parent Portal. To update your account, please follow the directions below:
Click the Aeries/TITAN icon below.
Login to your Aeries Parent Portal account.
Click the "TITAN" icon in the navigation menu.
Now that you have accessed the TITAN Portal, click "Add Money to Meal Account" to add funds to your child's account.
Please click the Aeries/TITAN button below to get started!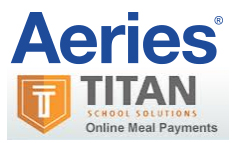 * TITAN is not supported by Internet Explorer. Please use Chrome, Safari, Edge, or another browser. *
The online payment system allows you to pay by Visa or MasterCard. There is a $2.45 fee per transaction. All credit card transactions must be completed online in the TITAN meal payment system. Credit card meal payments may not be accepted over the phone, for security reasons.
Online payments will appear as "PVPUSD Lunch" on your bank statement.
Checks deposits to student meal accounts will still be accepted at each school site. Please make checks payable to "PVPUSD Food Services".
Charge Backs: A fee of $35.00 will be charged for all charge backs through credit card transactions.
Returned Checks: A fee of $25.00 will be charged for all returned checks.
Meal Charge (Negative Balance) Policy
For technical assistance, contact TITAN School Solutions at 844-467-4700 x2 or email your issue to [email protected]
Funds roll over each year and stay on your student's meal account until they graduate or leave the district. For graduating or moving students, refunds may be requested by calling the Food Services main office at 310-732-0900 x34780.